Pilkington Glass Range
Pilkington Texture Glass
Pilkington energiKare Glazing
Toughened Safety Glass
Pilkington Texture Glass
For privacy, pure style or to allow more light into internal rooms, Pilkington texture glass gives you a whole range of attractive options.
The advantages of Pilkington decorative glass are easy to see, too: it allows maximum light while maintaining privacy or obscuring unattractive views, and also forms an attractive decorative feature itself.
Pilkington texture glass offers privacy and style throughout the home.
Five levels of privacy are available, graded from 1 (least obscuration) to 5 (greatest obscuration).
All are available toughened or laminated for safety and security.
Choose from a wide range of original designs.
All pattern names (e.g EvergladeTM) are a trade mark of Pilkington plc.
All pattern images are the copyright© of Pilkington plc and are reproduced by the permission of Pilkington plc.
Pilkington energiKare Glazing
Pilkington energiKare reduces the amount of heat loss through doors and windows and it also allows more heat (energy) from the sun in through the glass - this effect is known as solar gain.
As solar gain is heat from the sun, it's 'free of charge' and available all year round.
Pilkington energiKare contains two special types of glass:-
Pilkington K Glass, the UK's best selling low emissivity glass which stops heat escaping from homes.
Pilkington Optiwhite is a special 'extra-clear' type of glass. It increases the degree of solar heat gain and makes home feel warmer without the need to turn up heating.
Filling the double glazed unit with argon gas or using air filling with a new "warm edge spacer bar" stops further heat escaping from homes.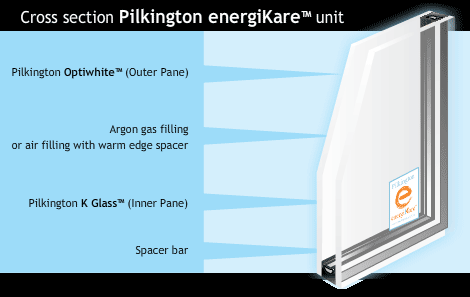 Toughened Safety Glass
There are rules and regulations as to what types of glass can be installed into windows, doors and other glazing locations. Here is our guide to help you understand where you must look to install the correct safety glass.
To comply with the Building Regulations glazing requirements or also known as 'Critical Locations' there must be safety glass or safety guards in place to protect people from injury. The most likely locations for accidents caused by glass breakage, which could result in cutting and piercing injuries are in doors, door side panels, low windows and low level glass in walls and glass partitions.
Safety glass should be fitted in all doors and other windows or glazed areas that are lower than 800mm from the floor level.
Critical Locations are considered to be:
1. Glazing in doors – Glass which is wholly or partially within 1500mm from floor level. As the drawing below shows, any glass in doors that does not start over 1500mm from the floor must be safety glass.
2. Glazing adjacent to doors – Windows/side panels wholly or partially within 300mm of the edge of a door and which is also wholly or partially within 1500mm from floor level must be safety glass.
3. Low Level Glazing – Not covered in (1) OR (2) ABOVE - Other glazing that is wholly or partially within 800mm from floor level. This means that windows that are not located within 300mm of a door must use safety glass if the bottom of the glazing is within 800mm of the floor level.
The shaded areas denote the need for safety glazing.